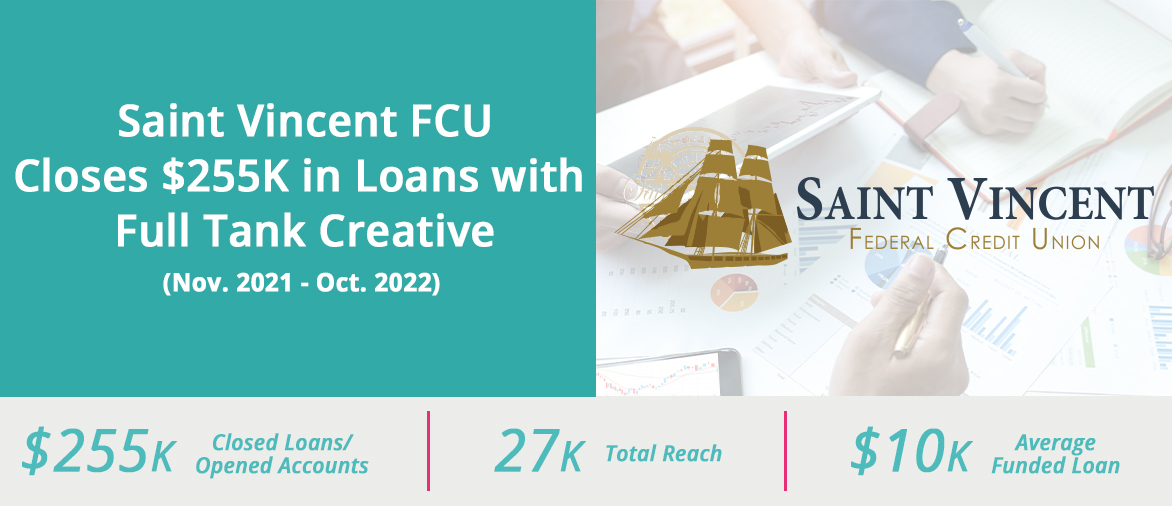 General Info
Chartered in 1960, Saint Vincent Federal Credit Union provides financial security and expertise to the employees of Saint Vincent Hospital and other Select Employee Groups. As of February 2023, SVFCU now welcomes members in the local community through a new association charter.
Headquarters: Erie, Pennsylvania | Assets: $18.8 Million | Members: 1,882 | Services Used: Emails, web banners, social media and videos
The Challenge
Faced with a very limited field of membership and marketing restrictions set by the hospital, SVFCU was in need of a tailor-made digital marketing strategy to increase engagement and brand awareness with its members.
The Solution
Full Tank Creative proposed a subscription package centered on story-driven digital content marketing with clear calls-to-action, allowing SVFCU to connect with members on an emotional level to increase engagement and awareness.
Testimonial
"Partnering with Full Tank Creative to handle our marketing needs has been a positive experience. From the very beginning, it was clear that they had a deep understanding of our goals and were committed to helping us achieve them. They were able to quickly identify areas where we could improve our marketing strategy and implement solutions that drove significant growth. Their creativity and innovation were also evident in the campaigns they designed for us, which were not only effective but also visually stunning and engaging. I would highly recommend Full Tank Creative to any credit union looking to grow and improve their marketing efforts."
– James Kemp, CEO of Saint Vincent Federal Credit Union (Assets – $18.8 Million)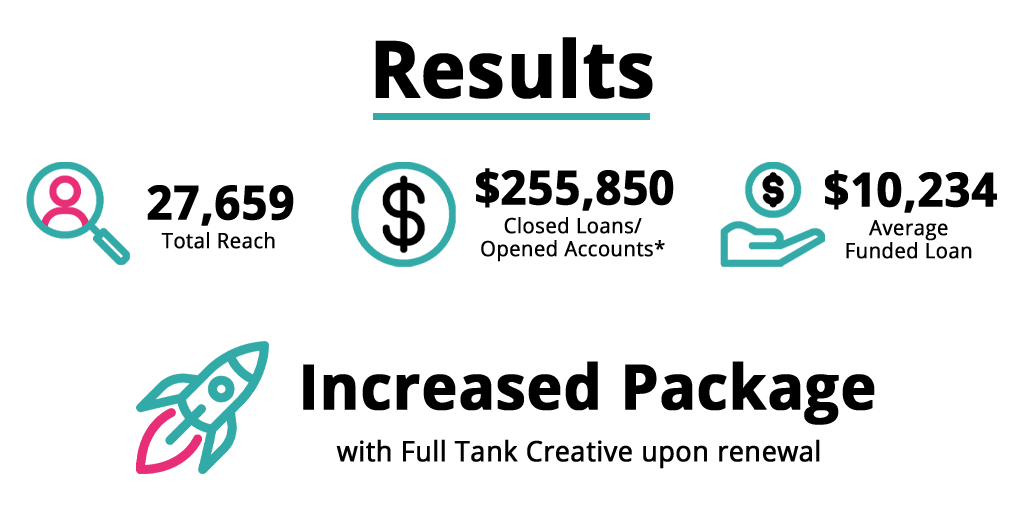 Overcoming Obstacles
While the credit union offers membership to employees of the Saint Vincent Hospital and their immediate family members, they are unable to directly market to current and potential members as the hospital considers it solicitation. Due to this major restriction, SVFCU could only reach these members digitally. However, due to their lack of size and resources for wide-scale marketing efforts combined with a "one size fits all" approach from their previous vendor, the credit union's digital content was not engaging and lacked incentive for their audience to take action.
Creative Strategy
Full Tank Creative aimed to boost engagement, site traffic, and awareness of SVFCU's products and services while helping the credit union close more loans and strengthen current loan offerings. The credit union began implementing a digital-heavy approach to their marketing to achieve these goals, utilizing monthly campaigns that included:
Email Campaigns
Social Media
Web Banners
Each of these elements included clear calls-to-action, bringing the recipient to a landing page that was specifically created for the current campaign. By providing a focused and targeted landing destination, SVFCU was able to capitalize on real-time leads who had interest in the featured product or service. This approach enabled direct attribution of those leads to Full Tank Creative, providing valuable insights into the effectiveness of the campaign.

Promotion-based content (such as social media contests and giveaways) was also used to expand SVFCU's overall reach and organic growth.
Conclusion
Full Tank Creative's highly targeted and data-driven approach to developing campaign strategies resulted in exceptional outcomes during their first year of partnership with Saint Vincent Federal Credit Union. The credit union's members were successfully reached 27,659 times, resulting in a substantial $255,850 in closed loans and opened accounts. The credit union's loan portfolio benefited from the diversity in the types of loans closed, which included holiday loans, auto loans, auto refinancing loans, personal loans, and others, with an average funded loan amount of $10,234.
The impressive number of closed loans reflects the success of Full Tank Creative's messaging in generating strong engagement and interest among SVFCU's audience. The partnership demonstrated the effectiveness of Full Tank's campaign strategies and messaging in communicating the credit union's value proposition to its members. Overall, the results of Full Tank Creative's partnership with SVFCU were both meaningful and tangible, affirming the value of their partnership with Full Tank Creative. The success of the partnership led to an increase in their package upon renewal.